"
So, if the police had gotten involved in Trixie's death, your life would've been ruined. You would've had no future. It may not have been Blake's smartest move, but one family's life was already ruined. He didn't think it would help Trixie's family to ruin yours.
"

— Cristal to Fallon
Guilt Trip to Alaska is the season premiere of the third season and the forty-fifth episode overall of the drama television series, Dynasty on The CW. It aired on October 11, 2019.
Synopsis
SEASON PREMIERE — On the eve of the Carrington Foundation Fundraiser, drama immediately floods the scene as bodies are pulled from the lake on the Carrington Estate. As reporters and detectives move in, Blake, Fallon, Cristal, Adam, and Anders realize they need to get their stories straight very quickly. Dominique Deveraux focuses on her missing son, while Michael Culhane tries to prove that he's been framed…from behind bars. Sam plays comforting friend to both Fallon and Kirby as he continues to work on the hotel. Fallon visits a comatose Liam in the hospital and finds herself haunted by Trixie's death in unexpected ways. Kirby visits Culhane in the slammer and returns to Carrington Manor to find she is no longer welcome. Dominique tries to steal the spotlight at the Fundraiser, Fallon becomes charitable, and Blake loses something incredibly valuable. [2]
Plot Summary
SPOILERS AHEAD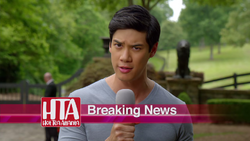 A male reporter for Hot Tea Atlanta talks about how it's another day in Carrington craziness as scenes of drama and trauma are unfolding. He mentions how one of his sources tell him that not one but two bodies were pulled from the lake that's part of the family's property. Including that of Trixie, a teenage girl and Fallon's former friend from her teenage years.
That same reporter mentions how Fallon Carrington's on-again, off-again boy toy, Liam Ridley is in critical condition following a narrow escape from drowning. Moreover, ex-Carrington chauffeur Michael Culhane is mentioned to have been arrested just hours prior after trying to bribe a senator. Meanwhile, Carrington Cousin Jeff Colby has also been reported missing; possibly the victim of foul play. Doug, the male reported goes also goes onto say how the scrutiny couldn't come at a worse time, with the Carrington Foundation fundraiser tomorrow night at the Georgia Aquarium.
Fallon ends up calling him a jackass after his signing off comment ends up being "talk about sleeping with the fishes".
She also proceeds to tell Cristal to save her apology because she's already apologized twice, and asks her would be step mother if she thinks that the third time's a charm.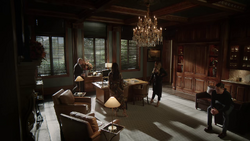 Later, Blake mentions that the lawyers are on their way over, which means so are the detectives, which in turn means they need to talk fast and get their story straight. Fallon sarcastically says that she's fine and thanks them all for asking since she just saw her friend's corpse get dragged out of the lake. She also just found out that her fiance drowned and would have died if Tony the gardner hadn't taken his fourth break of the day and found him in time. She still doesn't know how he is.
Kirby leaves to go see Culhane after Cristal and Blake got him arrested, and Sam is gone tending to his hotel.
Blake confronts Fallon asking her what she thought really happened to Trixie Tate, that if she truly believed Trixie had just run off to Spain or something. To which, she says she figured she had gotten hurt badly and was in one of their secret hospitals. However, she eventually admits that she tried not to think about it.
Afterwards, Blake slaps Adam telling him to stand down because he has done enough damage already.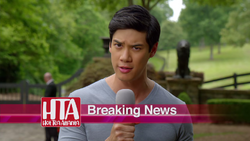 Meanwhile Dominique and Monica are seen at the police station talking about how it's a problem that the police suspect absolutely nothing. That they gave them every piece of the puzzle to pin Jeff's disappearance on Adam, and so far no progress.
Dominique says that it hasn't even been 24 hours.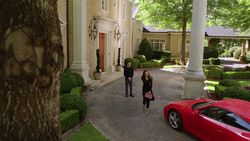 Fallon tells Adam that it really wouldn't surprise her if somehow he was involved in what happened to Liam too.
Adam tells her that he couldn't have because he was standing next to her the entire time at the wedding.
Fallon says alright, whatever, but to just know that she doesn't forget.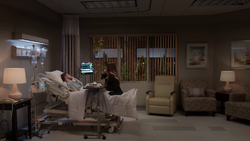 She finally gets to go visit Liam at the hospital who is still unconscious.
As Fallon leaves Liam's hospital room however, she hallucinates Trixie sitting in a chair. She takes a deep breath, and then looks back, but Trixie is still sitting there.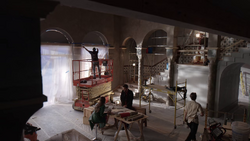 At La Mirage, Sam asks Fallon if she really didn't kill Trixie because he knows that 16 year olds can be bitchy sometimes.
Fallon says that she was one of her closest friends and confesses that it has been very traumatic for her having all these feelings bubbling back up.
Sam makes her feel worse by bringing up how it must be horrible for Trixie's family because just went they have moved past it, they are reliving it again. Not to mention that the press is probably hounding them.
Later, Blake is talking to his lawyer asking to make sure he's protected because he pays him a lot.
Dominique knocks on his office door and walks in.
He looks her way, and says he needs to lock that door more often.
She tells him that Adam is safe and hands Blake the cufflinks Jeff had planted to frame Adam.
Dominique then tells Blake that it has been a while since she left Atlanta, so she'd like for him to use tonight's event to reintroduce her to society. Sort of like her new debut.
He rejects that idea telling his half sister that he doesn't trust her, and that tonight is not going to be all about her.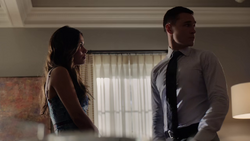 Cristal goes to Adam, and asks him how he plans to fix the problem he created. She tells him that he needs to stand up because Mack's body has Blake's DNA and maybe hers too. She mentions how he's a doctor, so he needs to figure it out.
Later, Fallon goes to church to find Mrs. Tate, who is just now coming out of and tells the older woman, she's there to offer her condolences.
Mrs. Tate says she wishes that were helpful, but that Trixie has been gone for ten years, and her disappearance destroyed her family. That she got divorced from Trixie's father, and her brother had a terrible time afterwards. Not to mention she is still battling a vicious depression, so condolences don't really help.
Mrs. Tate tells Fallon that she should leave because this isn't really helping her, and that this certainly isn't helping Trixie.
She doesn't look fine, and it looks like she is going to have a heart attack, but Fallon later reveals while talking to Monica that it was actually a panic attack that apparently Mrs. Tate gets all the time since Trixie went missing.
Monica sarcastically says she feels for her, but says that it is weird she was found in her lake. Especially because Trixie hated water.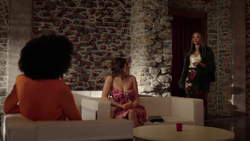 Shortly thereafter Dominique walks in, and Fallon calls Dominique her famous runaway half- aunt.
Fallon asks if there's anything she can do to help, and Monica is just about to say that Jeff and Adam had fought, but Dominique interrupts her.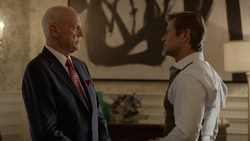 Back at The Carrington Manor, Anders informs Blake that apparently the police consider this case so serious that it's need to know only, so their contact at the police station has been left in the dark.
He goes onto say that they are watching Blake closely to see if he behaves differently, so Anders tells his boss to make sure to act normal.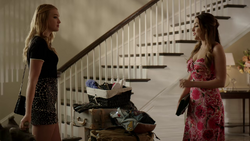 Kirby thinks Fallon kicked her out of the manor, but it was actually Blake. She tells her dad he doesn't seem to be very offended on her behalf. But she says that this place is toxic. [[File:Dynasty 301 Screencaps (590).png
Cast
Starring

Guest Starring

Ben Levin as Doug
Hira Ambrosino as Annie Tate

Co-Starring

Jessica Goei as Trixie
Telvin Griffin as Leo Eggers
Brian Ashton Smith as Policeman
Rocco Poveromo as Security Guard
Notes/Spoilers
The major antagonists of this episode are Ashley Cunningham and Dominique Deveraux.
On June 17, 2019, it was revealed that the this season will premiere on Friday, October 11, at 9PM. [3]

On this same day, a teaser poster for the third season was released on the official Instagram page for the series. [4]

On July 8, 2019 Rafael posted on one of his Instagram Stories that production for Season 3 has officially begun.

Starting with the table read for the Season 3 Premiere. Adam Huber can be seen in said story, which confirms that he is at least in the premiere episode.
Every main cast member from the end of Season 2 is shown to be present at the table read with the exceptions of Ana Brenda Contreras and Sam Adegoke.

On July 9, 2019 Liz confirmed Wakeema's appearance in Season 3 with a picture of the two she posted on her twitter. [5]
Michael Michele posted a video of the episode script to her Instagram stories that confirmed the title to be "Guilt Trip to Alaska".[8]
On September 4, 2019, TVLine released a first look at Daniella Alonso as the new Cristal Jennings.[9]

Josh Reims promises a "seamless transition," and that she's being written "a little more real and a little less scary, which is how we were writing Cristal last year."
In regards to how Cristal's new look will be addressed directly, Reims admits "I had to stop myself. I put in at least three jokes that sort of referenced the third time being the charm."
Trivia
Michael Michele is now billed as a series regular, instead of special guest star like in season 2.
Adam Huber is now billed as a series regular, instead of guest star like in season 1 and 2.
Daniella Alonso joins the cast as a series regular replacing Ana Brenda Contreras as Cristal Jennings.
The title "Guilt Trip to Alaska" is a reference to a line Fallon Carrington said to Jeff Colby in the episode The Baby of the original Dynasty series.
Liam's amnesia is a reference to a plot from the seventh season of the original series in which Blake lost his memory and believe he is still married to Alexis.
The book which Trixie is reading in Fallon's hallucination is Liam's book The Biggest Payday which is based on their love story.
Quotes
Trixie: Stop blaming everyone else, Fallon. You knew exactly what happened to me.
Fallon: So, does this mean the scholarship thing did not work?
Trixie: The scholarship was for you. Just like when you went to my mom, and just like when you tried to help Monica and Culhane. You're just trying to make yourself feel better.
Fallon: I liked you better when you were alive.
Multimedia
Images