The Sandman Will Keep You Awake - The Loop
Play Sound
"
That book was my opportunity to tell my story. The story about a young girl who always dreamed of growing up to be powerful and respected, just like her father. But as it turns out, I have always lacked the requisite hardware because nobody cares what a woman has to say as long as there's a man willing to give his two cents. {...} Every day I spent with you C.A helping you build that company, and all of a sudden, Adam shows up, and the prodigal son returns.
"
— Fallon to her father about Adam's return

Fallon Morell Carrington is one of the main characters and the central protagonist of The CW's Dynasty. She is portrayed by Elizabeth Gillies.
Fallon is a charismatic, manipulative, and fiery heiress, intelligent and business savvy as her billionaire father Blake Carrington. She knows what she wants and gets it, and she has her plans set on making a name for herself outside of her father. What first started as coming to see her father in hopes of a C.O.O. promotion at Carrington Atlantic, is soon thwarted by the news that her father will be marrying Celia Machado, and has been given the promotion instead, creating an unforgettable rivalry.
After Blake refuses to give Fallon a job of importance in his company, she teams up with Jeff Colby, her father's mortal enemy, and he offers her financial backing to be chief executive officer of Carrington Windbriar, her own company that she's starting which will also be Blake's new competition. This sets off Fallon's entry into the world as a businesswoman.[4]
Over four seasons, she launches several companies, including Morell Green Energy Corporation, Femperial Publishing, and Fallon Unlimited, all of which fail, excluding the latter. She also marries, divorces, dates, gets engaged and marries once more to Liam Ridley. She also names herself as the head of the Carrington Dynasties.
Biography
Early Life
Heiress Fallon Carrington is unhappy to find her billionaire father Blake engaged to Cristal Flores. Fallon's plan to drive a wedge between them backfires, pushing up the wedding and securing Cristal the promotion to chief operating officer Fallon wanted for herself. Feeling underappreciated by Blake, Fallon sets herself up as his business rival, backed by Blake's nemesis, Jeff Colby. She is also sexually involved with the Carrington chauffeur, Michael Culhane.[5]
Blake blocks Fallon's use of the Carrington name for her new business venture, so she looks for leverage over him.[6] She leaks a sex video of Cristal and her former lover Matthew Blaisdel to the press.[7] After her overconfidence costs her a lucrative contract, Fallon realizes she has to accept Jeff's input as well as his money. Blake learns that Fallon leaked Cristal's video and kicks her out of the mansion.[8] Fallon is jealous that Michael is dating Kori Rucks, but their relationship withstands Fallon's meddling.[9] Exiled from the Carrington Thanksgiving celebration by Blake, Fallon appears at Michael's church congregation dinner and meets his parents.[10] Michael's relationship with Kori implodes over his lingering feelings for Fallon, who rebounds with Jeff.[11] Fallon has a falling out with her best friend, Jeff's sister Monica Colby.[12]
Fallon overcomes her reluctance to fully commit herself and her money to Jeff, but he is only marrying Fallon to secure her assets—especially her shares in Carrington Atlantic—for himself. Fallon helps Blake and Cristal turn the tables on Cristal's criminal brother-in-law Alejandro Raya[13], but is in turn abducted by Cristal's sister, Iris. Alejandro and Iris hold Fallon for ransom, and a captive Cristal helps Fallon escape.[14]
Monica manipulates Fallon into accepting Jeff's marriage proposal, but Fallon discovers Jeff's duplicity and enlists Michael to help her against the Colbys.[15] Their attempt to erase the data Jeff has stolen from the Carrington server fails, and Jeff's father CecilColby reveals to Fallon the crimes that Blake has committed against the Colbys.[16] The Carringtons proceed with preparations for Fallon's wedding to Jeff as a distraction from their second attempt to erase Jeff's server. Jeff presents Fallon with full ownership of their company Morell Co and a plan for them to exchange 25% of Carrington Atlantic and Colby. On the eve of the wedding, Fallon asks Michael to marry her at the city hall, but he refuses, not wanting something so important to be part of a Carrington plot. With Fallon and Jeff at the altar and the server still not breached, Blake tries to stop the ceremony, but Fallon shuts him down. Afterward, she reveals to the stunned Colbys and her family that the marriage is invalid because she married someone else, Liam Ridley, the night before. Jeff's claim to 25% of Carrington Atlantic is therefore null and void, but Fallon now owns 25% of Colby.[17]
Jeff and Fallon's feud goes public.[18] Blake apologizes to Fallon and Steven for manipulating them, and his long-absent ex-wife Alexis—Fallon and Steven's mother—reappears. Fallon makes overtures to connect with her mother, and Alexis tells Fallon that Blake bribed a judge to seize custody and exile her.[19] Fallon soon discovers, however, that Alexis has not been living a life of luxury abroad, but is housed in a trailer nearby, and has stayed in touch with Steven. A furious Fallon confronts Alexis, and their catfight takes them into the pool. Steven refuses to believe Fallon's claim that Alexis is trying to sabotage Steven's engagement until Fallon manipulates Alexis into confessing.[20]
Fallon agrees to a date with Liam, but cuts him loose when Alexis reveals that Liam is a journalist named Jack Lowden writing a tell-all.[21] Fallon and Cristal work together to secure leverage over Blake.[22] Intending to publicly force her father to take responsibility for an environmental scandal he covered up, Fallon is dumbstruck when Blake announces her promotion to COO in Cristal's place. Blake thwarts Fallon's plans for Carrington Atlantic. She visits Claudia looking for incriminating information on Blake, which she uses in a secret meeting with the Carrington Atlantic board.[23] Fallon is named Carrington Atlantic's CEO, while Jeff and Monica reveal their Carrington heritage as the children of Blake's half-sister, and declare their intention to force a sale of the company. The Carringtons are trapped in the burning stable house during Steven and Sam's wedding, but Michael rescues Blake, Fallon, and Sam.[24][25]
| | |
| --- | --- |
| | Note: This section is a stub. You can help Dynasty Wiki by expanding it. |
Fallon is seen in the season 2 trailer in her car with the news and with Culhane in the shower. In the first episode she was seen with Steven in the House where Cristal's ashes were Than Alexis came and Fallon attempted to walk away from her but when Sam came they've Got into a fight where Fallon was fighting with Alexis until Blake came in the House where he slammed the door after Alexis broke Cristal's ashes and Fallon looked sarcastically mad at her.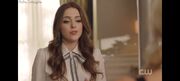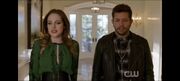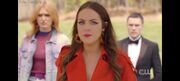 Fallon became more of a party girl as seen in The Sight of You, and she makes deals with her father to include Cristal in her plans untill Cristal tells her she doesn't know if Blake is her baby's father. Fallon encourages Cristal to tell Blake the truth and wished to have a mother like her growing up.
After Alexis' face change, Fallon feels sad beacuse she only likes her face on her,she told Alexis to change her face 1 more time, Alexis had accepted her offer after being burnt by Adam.
Fallon tries to get Liam back but doesn't make it direct, and it happens at the masquerade party, where they had danced and kissed and became a couple towards the end so they could know what Adam is planing to do, to ruin Fallon's reputation.
| | |
| --- | --- |
| | Note: This section is a stub. You can help Dynasty Wiki by expanding it. |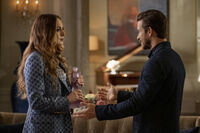 Fallon prepares for her impending nuptials to her fiancé Liam Ridley. Fallon throws herself into the superstitious beliefs of marriage as she desperately wants their marriage to work. She seeks to find something old, new, borrowed, and blue to complete their pre-marriage rituals. She purchases a new car, makes handkerchiefs out of Liam's father's blue designs, and is gifted an old cloak from her father that was her Grandparents. She searches for something borrowed as it has to be from a successful marriage. She refuses Alexis's diamond horse from her wedding to Jeff, though she reluctantly accepts a boutonnière from Blake's prison wedding to Cristal. She is unaware of Dominique's plans to steal the clock for herself.
That evening, they host a wedding shower at La Mirage, where Laura Van Kirk makes an uninvited appearance. Liam turns his mother away, though Laura makes an emotional plea to Fallon claiming she's changed and doesn't want to miss her sons wedding. Fallon urges Liam to hear out his mother, even though it pains her to do so because of Laura's conniving ways, before ensuring everyone is ready for their speeches. She calls Kirby to deliver a speech that Fallon wrote for her. As they adjust the microphone, the new priest enters since the former one had suddenly fallen ill. Kirby outs that the priest, Father Caleb Collins, is the one having sex with Cristal. The microphone turns on at the last second and broadcasts this news to the entire party. Arguments ensue between Blake, Cristal, Dominique, and Laura. Laura outs her sexual relationship with Blake which mortifies Fallon, only for Alexis to jump in that she, too, is having sex with Jeff. As tensions escalate, Fallon reaches a breaking point and smashes a champagne glass before proclaiming her exit.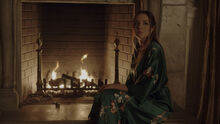 She reconciles with Liam who gives her napkins from the locations of every date they've ever had. He states those are their something borrowed since he's betting on them being the happy couple.[26] On her wedding day, Fallon obsesses over everything being perfect now that the wedding was forced to relocate to the Carrington Manor. She starts by picking out the perfect shoes with help from Kirby and Alexis, who urge her to consider flats due to the grass. Fallon brushes them off only to badly injure her ankle. Unable to walk properly, she defaults to asking Alexis for help in walking her down the aisle alongside Blake, as she worries her father won't be enough to support her. Blake, much to Fallon's surprise, is fine with the sudden change and leaves her to finish her song to Liam. Fallon is heartbroken to learn that Blake was only nice to her all day because he needed money to save Carrington Atlantic and his personal assets. She also learned that Alexis was scheming with Jeff to take down Blake by sabotaging his banking deals.
Fed up with her parents antics, Fallon hobbles to Liam and asks if he's okay with having a wedding somewhere completely different and last minute. He agrees so they flee to her old high school. They call Sam who had planned officiate the wedding and Kirby to witness the event. Fallon also needed her to bring her the right shoes. As they waited at the auditorium, Sam arrived with Michael Culhane in the place of Kirby since they couldn't find her. Sam officially begins the ceremony as Fallon's urging. When it comes time for the vows, Fallon opts to sing them to Liam in the form of a song she wrote, More Than Me. He is moved to tears and gives his vows to her before the ceremony is complete. Sam and Culhane leave the newlyweds who plan to drink champagne and celebrate. The happy day turns South when Evan Tate arrives with a knife and rope for Fallon. He's angry that she turned him down for Liam and reveals he was responsible for sabotaging the wedding - the priest, the faulty pipes, the florist. As she negotiates with Evan, Liam and Blake make a silent plan to save her. Blake tackles Evan and they both fall off the stage.[27]
Blake and Kirby recover in the hospital from their injuries, while Evan Tate is released from the hospital and into police custody. Fallon begins to exhibit signs of PTSD from the encounter, and throws herself into being a nurse for both Kirby and her father. She partially blames herself for what happened to them, though her inexperience at nursing leads to several catastrophes that force both her patients to fire her. In the meantime, Liam prepares for their honeymoon in Cabo, though Fallon, still afraid to leave the house, cancel the trip and turns the Manor's pool into Cabo. Their serene honeymoon is ruined when Alexis, Dominique, Jeff, and Sam interrupt the newlyweds attempts at peace. Liam, fed up with her antics, calls off their honeymoon. After a surprisingly helpful conversation with Blake, Fallon returns to Liam's side and opens up about her fear of leaving the house. She apologizes for not letting him in, as she's never had someone to support her before.[28]
The couple plans to make their grand entrance into society with an exclusive interview, though Jeff, Alexis, and Dominique's ongoing feud leads to the interviewing being canceled. Desperate for a second chance after her wedding day turned into a crime scene, Fallon enlists Sam's help in winning over the interviewer. Their antics convince the interviewer that their story will make for great TV, and agrees to reschedule. Back at the Manor, Fallon and Liam butt heads with Alexis and Jeff who still haven't solved their divorce settlement dispute. Fallon takes inspiration from her favorite sitcom I Love Lucy, and divides up the Manor into Jeff, Alexis, and shared zones. When that fails, she draws inspiration again by locking them in a room together to sort their issues. Finally tired of the constant feuding around her, Fallon decides to agree with Liam on moving out of the Manor. He knows that while she might say she wants to leave, this is her home, so she'll never be free of the Carrington clutches. She takes what he says to heart and squares off with Alexis, triumphantly telling her that she plans to tell the press tomorrow that the Carrington dynasty is not crumbling but stronger than ever, because she plans to take the reigns as head of the family. She is in the process of purchasing all the access roads to the Manor, so while Alexis might own the house and Dominique the mineral rights, she will own the only way in and out of the land. She promises that if they ever act like children again, or get in her way, the only diamonds they'll be seeing is in Russian roulette.[29]
Fallon deals with the ramifications of assuming a public role as head of the family, especially when she is forced to take on the responsibilities of a public figure. She is lectured by a child outside the library on the downfall of her family and lashes out, which creates a slew of poor press. At the same time, she set a State of the Company Address for Fallon Unlimited where she planned to announce a buyout of SmartVerse. The acquisition will make her a global player in the digital mark, which she needs to be if she wants to make Fallon Unlimited the new Carrington Atlantic. When SmartVerse sees her lashing out at the child, they call off their deal which sends Fallon into panic mode as she struggles to find a way to win them over. Simultaneously, her attempts to please everyone at the hospital by green-lighting all of their projects fails as she doesn't donate enough money, promptly annoying Adam, while Alexis withdraws from her podcast Ask Alexis. In an attempt to flood the world with positive press, she does a series of money donations with large prop checks for "any amount you need", donated from the Carrington Family Trust. She also sings happy birthday to the staff. She goes to Blake for advice on how to juggle everything, to which he recommends focusing on the important things. He also tells her that Monica and Jeff's grandmother died. Fallon hosts her State of the Company Address but cuts it short upon realizing that family is the most important thing, so she needs to be there for Monica and Jeff. She reunites with Monica and shares a sweet moment with Jeff. SmartVerse reopens negotiations as their values are family oriented, which allows the sale to go through. She invites Blake to run the SmartVerse account for her, though his enthusiasm to do more is evident.[30]
Their struggle for power becomes evident immediately when Blake oversteps by firing 29 of her Fallon Unlimited employees, all of which she forces him to hire back to avoid a wrongful termination lawsuit. She makes it clear that she tries to make the environment one that people want to be in. In the meantime, Fallon learns that Adam is planning to become chief of staff at the hospital. She commends him for being one of the little people as it makes the family more relatable. She also gives Liam some much needed advice for his writing by telling him to write stories he's passionate about. He decides to return the payment from his publisher and opts to dive back into investigative journalism to expose corruption. She supports his endeavors but is pulled away when she an email alert shows that Blake hired a headhunter for himself. Finally fed up with his antics, she interrupts his outlandish attempts at yoga to call him a terrible father with tunnel vision that only includes himself. He notes that he liked things the way they were, but she coldly told him those ways are gone and fires him. Blake returns to her side to admit his wrongdoings and is willing to try again at being her employee.[31]
Fallon found it difficult to balance her work life and personal life, especially as things progressed with Fallon Unlimited's European branch. Liam made it known he wants to spend time with her and reworked his schedule to do so, which prompts Fallon to call in his longtime friend Nash Martinez to distract Liam so she can work. Her perfect plan is derailed when the men convince her to go to karaoke, causing her to miss an important business meeting. While she sang beautifully at the karaoke and enjoys herself, she also nearly delivered a fatal blow to her impending business deal. While there, Nash attempts to kiss Fallon but she rejects him. At Adam's birthday party, she opens up to Blake about struggling to balance her two lives. He advices her to be honest and helps her get the land needed to build her overseas company. Nash attempts to blackmail Fallon into giving him an article in Fallon Unlimited, plus a room at the Manor, in exchange for keeping his silence about her begging him to come distract Liam. She decides not to be blackmailed ands goes give Nash an article about rare diseases - it just requires him to travel to the most desolate sections of the country. She combines the article with her birthday gift to Adam. She then tricks Nash into admitting his advancement on her at karaoke night in front of Liam, who she secretly works with. When Nash calls her a bitch, Liam is ready to defend Fallon until she takes the swing herself. With Nash now in exile to a remote corner of the world and her relationship with Liam stronger than ever, Blake calls Fallon into an emergency meeting. He reveals that while they secured the land in Europe, the second the deal closed all their permits for building and land were blocked. She refuses to back out as it would leave them back at square one. She questions how this is possible, to which Blake points out the timing of everything being to planned to be a coincidence. He asks if there's anyone she can think of who is sabotaging her chance to expand Fallon Unlimited.[32]
In the UK, Fallon's purchase of the land is final, while her attempt to appeal her land permits is denied. Fallon Unlimited now owns completely unbuildable land in the Scottish countryside. Blake tells Fallon that the Scotland Heritage Foundation filed a claim immediately after the sale finished, claiming that the rocks on the land were once part of an ancient castle, which means that building on the land is impossible until their investigation is over. Things look up when she notices that one of the claims co-sponsors is Colin McKnotten, an old Wharton co-ed of Fallon's, who also comes from an old and powerful family. She makes a meeting to appeal to him using their shared past and experience, as they were both members of an Acapella group that performed at the White House. However, Colin still harbors a grudge toward Fallon for exposing his cheating scandal at Wharton, which got him expelled, all so she could graduate at the top of the class. He not only refuses to drop his claim, but pursues legal action against Fallon Unlimited which will completely drain her company's assets. She, in turn, uses one of her friends in the city permit office to deny his marketing offices from being built due to code violations.
Colin than makes a condescending offer to buy back the lands for 50% of the sale price. She recruits Liam for help in exposing Colin, as she hopes that a meeting on his books is with the Governor for a bribe. They are surprised to see that Colin meets with secretary, whom he's having an affair with, despite being married to old New York money. Fallon plans to blackmail Colin with the photographs of their affair, which Liam supports. Though when she learns that an old TA from Wharton was fired over Colin's cheating scandal, as he leaked the tests Colin used to cheat, she feels guilty for not thinking about the collateral damage of exposing Colin. She makes a meeting with Colin to seemingly surrender and sell the land rights for his initial offer of 50%. However, she reveals that she already agreed to the Scotland Heritage Foundation's terms which settled the dispute. She will rebuild the castle and build her company in the fifty foot radius around the castle, per the codes that she studied during an all-nighter. While this will cost her more money, she believes it shows that she's changed. Colin vows that this isn't over but she thinks it is. To make up for the losses she'll have in rebuilding the castle, Fallon decides to make the company public a year early.[33]
Blake warns her that taking the company public could have a huge impact on the companies well-being, but she doesn't see any other choice. She plans to grease the palms of her SCC officer, Corinne, who just happens to be an old family friend of the Van Kirk's. She convinces Liam to help her arrange the perfect dinner for Corinne, learning that the woman prefers subtlety over a flamboyant show of wealth and privilege. The trio sit down for dinner as Fallon attempts to keep bringing the conversation back to work, despite Corinne drifting to Van Kirk family drama. Corinne finally states that she knows Fallon wants her review rushed, but she simply doesn't have time to push through the proposal, as her schedule is too full. Liam quickly inquires about the last time he and Corinne saw each other, which was shortly before his father's death, on Liam's eighteenth birthday. Corinne was happy to see Liam's father in such high spirits, "despite everything" that happened. Liam is confused by what she means, and she references the incident with the tankers. He believes her timeline is confused and when it becomes clear that Liam is in the dark, Corinne tells him to leave the situation be and leaves. Fallon, immersed in her own drama, worries how she'll convince Corinne to push her review through. As she plots and schemes, she notices Liam's distance and asks him what's wrong. He can't stop thinking about Corinne's coyness when the topic of his father arose.[34]
As the world believes the Carrington heiress has died, supporters and fans rally outside the Fallon Unlimited headquarters. In the meantime, a frustrated Fallon vents to Liam over her believed death in the media. After all, the bullet went through-and-through and she's recovering fine at the hospital. She just wants to be discharged in time for the Carrington Winter party, though her doctor isn't so keen on the idea. While her exterior wounds are healing, her white blood cell count is high which indicates an infection. She has to stay longer for treatment. Fallon simutaneously tries to repair her fractured relationship with Liam, who agrees to call off the divorce. He claims everything is fine but his distant nature makes her believe otherwise. Things continue to unravel in her professional life, as a board member reveals concerns about the lack of chain of succession would Fallon have really died. To secure her company, Fallon launches into full scheming mode with the help of Sam. They work to secure Kelly Sanders as her next VP by the end of week. Kelly declines the offer, shortly before a tabloid site leaks Fallon's affair with Colin McNaughton. Fallon Unlimited's stocks plummet in response, forcing Fallon to take action. With the help of Sam, she sneaks out of the hospital to visit an imprisoned Eva. She attempts to bribe Eva into retracting her statement, but a bitter Eva refuses. She also reveals that shooting Fallon was an accident - she was aiming for Liam.
That night at the Carrington party, Fallon pushes Liam to act happy in front of the cameras to dissuade the rumors of their divorce. However, his distance and reluctance for public displays of affection proves her worries. When Sam fails to find her a suitable actress to play the role of her next VP, Fallon begins to spiral until Kelly arrives, having changed her mind about the position. With things looking up, Fallon talks with Liam outside of the party. She presses him for the truth as she knows everythig isn't fine between them. He admits he's angry which he's not allowed to be, since he can't possibly play the victim when she's the one who got shot. Fallon rebutes this claim as he's allowed to be angry at her. He can't stop thinking about how Colin is the last person she kissed, which hurts her feelings. She wants Liam to take responsiblity for his part in their fight, but he reminds Fallon that he always maintained that Eva was a friend. However, that isn't what she's referring too. She's hurt he took the word of a manupulative psychopath over that of his wife. He snaps back at her before admitting that he doesn't forgive her, and probably never will. As he storms off, Fallon begins to lose her breath before passing out. Liam rushes to her side and they return to the hospital, where the doctor reveals Fallon's white blood cell count does indicate an infection. The bullet knicked an internal organ which has created the infection, causing her brain to swell, and now she's in a coma.[35]
Fallon's friends and family rally around her in her time of need. Liam creates a schedule for visitation so she's never alone. He instructs everyone to share their happiest Christmas memories with Fallon, as it's her favorite time of year. He spends every moment he can at her bed side. Kirby reveals to a comatose Fallon that she switched their Christmas gifts one year, in the hopes it would make Fallon angry enough to wake up. She also reminisces about Christmas being the one time of year everyone comes together. Blake visits Fallon to share a memory of them following through on the Carrington tradition of cutting down a Christmas tree. Fallon thought it would be smarter to get someone else to cut down the tree, but Blake refused out of tradition. The tree ultimately fell and crushed their car. While not their happiest memory, he likes that she was willing to do it with him. He admits how proud he is of her. Meanwhile, Liam remembers some of their Christmas's together, including singing I'll Be Home for Christmas together at the piano in the Carrington manor. Their first Christmas together started as a fight over Liam not getting her a present, though Fallon had claimed no presents before. She eventually comes to realize that Christmas isn't just about the gifts and is happy to spend time with him.
Now, Liam gives her a lantern that plays the song, admitting this is all he wants for Christmas. He also forgives her for everything, and hopes she can wake up and forgive him, too. The first sign of good news arrives that evening when the doctor reveals the swelling has gone down in Fallon's brain. Though it's unclear when she'll wake up. A distressed Culhane and Sam visit Fallon, telling her about the decorating they did at the club. They'll be leaving it up after Christmas so she can see it. The next day, Fallon dreams of wrapping presents with Liam - a toy for their son and all the gifts on their daughter's list. She's happy to be spending the holiday with her husband and family. As they wrap, Fallon notices a white light that he encourages her to go into. When she does, she wakes up in the hospital to a happy Liam. Fallon returns to the manor in time for Christmas, where she gifts Kirby a pair of earrings, without forgiving her for switching their presents that one year. She reveals she heard all of them in her coma, including Blake, who assures her he meant every word. She also heard Liam, and forgives him, too. The couple kisses happily as she gifts everyone extravagant presents. The family toasts to another wonderful Christmas.[36]
Personality
Fallon can be described as sharply intelligent, competent, charismatic, and savvy. She knows what she wants and isn't afraid to go after it, even if it means manipulating the situation to better benefit her needs. She is charismatic, outgoing, and the center of all parties. She can appear cold-hearted which is fueled by her sarcastic quips. At first, her intentions were set on becoming the C.O.O. of Carrington Atlantic, until she felt betrayed by her father and decided to switch allegiances.
Fallon wants to establish herself in the corporate world outside of her father's legacy and on her terms. Despite her hard and unflinching exterior, Fallon had a good heart and tends to choose to do the right thing over hurting someone else. For example, when Culhane's family believed that he was an executive at the company and not a limo driver, she covered for him by calling him a good vice-president.
On the flip-side, Fallon tends to talk down to the staff at The Carrington Manor and brushes off most problems as beneath her. She can be territorial and fiercely protective of her family and, subsequently, their companies. While she is riddled with trust issues, when Fallon does let someone in, she loves them unconditionally and would do just about anything for them.
Relationships
Jeff Colby - Their relationship began while they were both in high school. They later agreed to become business partners to help found Morell Corp and became close friends. Their relationship later turned into a romance and they kissed. They nearly married, until Fallon found out he was playing her. Fallon later learns that Jeff is her half-cousin.[37]
Liam Ridley - Liam and Fallon met outside a courthouse in the rain, where Fallon had accepted her fate of marrying a man she not only didn't love, but was unknowingly related too. Liam, a kind stranger at the time, took pity on her and asked if she were alright. She suddenly asked if he wanted to have the biggest payday of his life, and married him inside the courthouse that night. the following day, she revealed to Jeff that she knew about his scheme to get revenge on the Carrington family through her, and that their marriage was illegal due to her union with Liam. Her convoluted plan circumvented the Colby's and allowed her family to survive another day.[38] However, Fallon and Liam's relationship didn't end after their faux marriage fulfilled its purpose, and after a series of ups and downs, Fallon and Liam realized their love for each other, though the hurdles their love faced seemed to never-end. Disaster seemingly struck the happy couple when Liam was struck over the heady by Adam Carrington, which resulted in complete memory loss for the past three years.[39] He didn't remember Fallon or his relationship with her, but as time progress, regained his memory and confessed his love to her again. She ended things with her boyfriend to be reunited with Liam, her self-proclaimed true love.[40] He then proposed to her in an elaborate plan surrounded by roses, just as she had always dreamed.[41][42] They were married in a small ceremony by Sam Jones. She wrote a beautiful love song for Liam which she preformed as part of her vows. In true Carrington fashion, their wedding included an uninvited guest, a stabbing, and Blake's near paralysis.[43] Their honeymoon was derailed by Fallon attempting to care for her wounded family, their newlywed bliss cut short when Fallon's work took priority over Liam, leading him to feel as though he had nothing to offer in their marriage. As things spiraled out of control, Fallon's new assistant Eva exploited the vulnerability in their marriage for her own gain. She planted fights, didn't deliver messages to force miscommunication, exploited vulnerable moments, planted a fake divorce lawyer message for Fallon from Liam, and set everything up so Liam would find Fallon firing Colin McNaughton while ending their one-night-stand. Because Fallon thought Liam was divorcing her, she slept with Colin but planned to tell Liam the truth, but was unable as he overheard the conversation courtesy of Eva. He packed his bags and left the manor. Ultimately, Fallon is shot by Eva, who aiming for Liam, and nearly dies. This act brings the couple back together after many weeks of turmoil and certainty.
Colin McNaughton - Both Fallon and Colin went to Wharton earlier on in life. While Fallon tries to occupy land in Scotland, she is later informed that the land is taken by someone else. After a couple of days, Fallon finds out that Colin (an old friend from Wharton) is occupying the land at the present time. After weeks of rivalry between the two, fighting for land and against each other for the CEO position of Fallon Unlimited (Fallon describing Colin as her 'arch nemesis'), Fallon eventually kept the CEO position but agrees to be civil with Colin. While Colin kept making fun of Fallon, telling her that 'she always had something for him', Fallon kept denying these claims. While Fallon is out in California to meet with an individual to solve her relationship with Liam, she asks Colin to help make sure the company is still stable why she is gone. Later, it is revealed that Colin had a divorce with his ex-wife. When her plan fails and she comes back to Atlanta, Liam confronts Fallon and moves out of the bedroom, into the guest room. Later in a scene in 4x20, Fallon is seen in her office in late evening. Colin later comes in, and Fallon thanks him for making sure the company is stable. They both agree their love life is failing, and after more talking they share an intense kiss session. Fallon was still married at the time, so it was technically an affair. The next morning, Fallon is disappointed with Colin, having just slept with him, and eventually leaves the office. As she comes out the door, Eva, her assistant, is seen in the office. Fallon tells Eva that this was a major miscommunication and that she should keep it to herself, and make sure that Colin gets out of her office. Eva then calls Liam to tell him that she left a necklace in his car, and he should be here in 45 minutes. At this time, Fallon and Colin agree that this was wrong and Fallon will tell Liam what happened. Liam is in the office at this time, and overhears the conversation, due to Eva telling him to drop off the necklace at her desk. Later on in the episode, Liam moves out of the manor completely and confronts Fallon about her affair with Colin. After a heated argument, Liam says he's going for good. In 4x22, Fallon finds out Eva's plan to break Fallon and Liam up completely, and it ends up in a major catfight. She mentions that 'she didn't expect Fallon and Colin to kiss and sleep together' but made sure that Colin was late in the office. After the fight, Liam comes in and tells Eva to come with him. What Eva thought was a 'relationship' with Liam, later realises he doesn't like her and he might've gave her the wrong impression. It ends up in a verbal fight and Liam realises what Eva was doing, to make sure he knew about the affair. She's asked to leave, and Liam goes back to Fallon. In season 5, Colin is hardly mentioned and the couple agree to never mention it again, and that it was an honest mistake.
Appearances
Trivia
Notes
She is one of three characters (along with Sam and Blake) to have physically appeared in every episode.
She is Eliza Bennett's favorite character, along with Sam and Anders.
In the 1980s series, Steven was her younger brother.
Gallery
References