The world is full of Dynasties... It's time to celebrate the return of the iconic 1981 TV series in the form of a 2017 reboot which debuted on Wednesdays 9/8c on The CW, starring the fiery and talented Elizabeth Gillies! But as March 9, 2018, it has moved to its new date and time on Fridays at 8/7c. So save the date!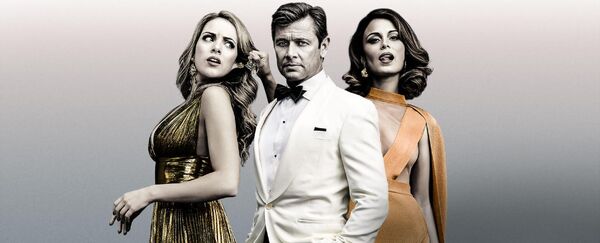 HIGHLIGHTED ARTICLES:
Where's Alexis? • Read up on Fallon Carrington!
PREMISE: Fallon Carrington is charismatic, cunning, and poised to become the new COO of her father Blake's global energy empire – or so she thinks. Along with her brother Steven, Fallon is horrified to learn that they were called home not to announce her promotion – but rather to make the acquaintance of their stepmother-to-be, Cristal. When Blake chooses Cristal over his own daughter, Fallon sidles up to Blake's biggest rival, Jeff Colby, to seek her revenge. Meanwhile, when Cristal's nephew Sammy Jo comes to town, her carefully concealed history could bring her future crashing down – and who knows who else she might take down with her.
Join the fabulous world of the Carrington family with us at the Dynasty Wikia!
Anyone can edit this wiki and contribute to make it bigger and better! Your words count!
---
Need help finding your way around? Admins are here for just that! Pick one and ask your questions!
---
Want to affiliate with us? Click here.
---
Create blog post
Just to be clear once and for all... 

Decision has been taken with administrators to not create page for characters that have not been heard or seen in the series.

To date, this decision concerns Adam …

Read more >
See more >
---
Featured Article
Sam Jones
, also known as Sammy Jo is a main character in the television series, Dynasty on The CW. He is an openly gay character and the nephew of Cristal Flores, but the most interesting thing is, in the 1981 original series, he was a girl, but they changed his character to a guy to support openly gay character
Steven Carrington
who was married to "her" in the original!
---
Featured Quote
"
If you drove a car today, charged your cell phone, or made breakfast, chances are Carrington Atlantic had something to do with it.
"
---
Featured Video
---
Who is your favorite character so far?
---