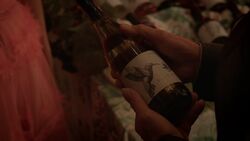 Blue Belt was a winery and vineyard formerly owned by Blake Carrington. Blue Belt was the first company he started for himself. Cristal and Adam Carrington assisted Blake in running the winery until it burned down.
History
Blue belt industries purchased a small physical therapy clinic and gave each of the employees a large sum of money. The only information that Cristal's friend could find about Blue Belt industries, was that it is a shell company with a winery out west. According to Joseph Anders, Bye Bye Blue Belt was Blake's favorite racehorse and the pride of the stables. ("That Witch")
Infuriated with his father and seeking revenge, Adam burned Blue Belt Winery and its accompanying vineyard to the ground. ("The Sensational Blake Carrington Trial") When Adam realized the validity of what he had done, he purchased a neighboring vineyard. He planned to give it to Blake as a peace offering. However, Blake refused the vineyard and revealed he had no plans of reopening the winery. ("The Caviar, I Trust, Is Not Burned")
Employees
Gallery
Community content is available under
CC-BY-SA
unless otherwise noted.