"
Monica: Hold on, this is a surprise wedding?
Fallon: More like an ambush.
"

— Monica and Fallon at the news of the wedding
The
wedding of Blake Carrington and Cristal Flores
took place during the pilot episode, "
I Hardly Recognized You
". It was a surprise wedding after their engagement planned last minute to foil
Fallon
's plans of breaking them apart.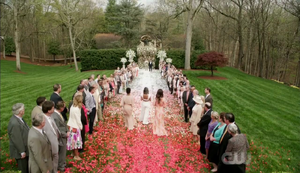 Background
After four months of dating, they became engaged to be married. They invited friends, family, and relatives over to celebrate their engagement but Blake became increasingly aware of how Fallon was convinced Cristal was a gold-digger and was trying to break them up. They, as a result, turned their engagement party into a surprise wedding and Steven agreed to be his father's best man.
Notable incidents
Steven shared a friendship moment with Cristal and thanked her for making his dad happy. They briefly discussed Alexis when Sam showed up. Steven found out that his one-night-stand lover was, in fact, Cristal's nephew.
Claudia Blaisdel interrupted the departure of the newlyweds for their honeymoon and accused them of killing her husband.
Multimedia
Videos