"We live in an age of Dynasties."
Welcome to the official wiki for the Dynasty reboot, now airing every Friday on The CW!
With a fierce cast, including Elizabeth Gillies, Nicollette Sheridan and Grant Show, and brilliant writers with previous credits including Gossip Girl and 90210, Dynasty sure knows how to make a splash.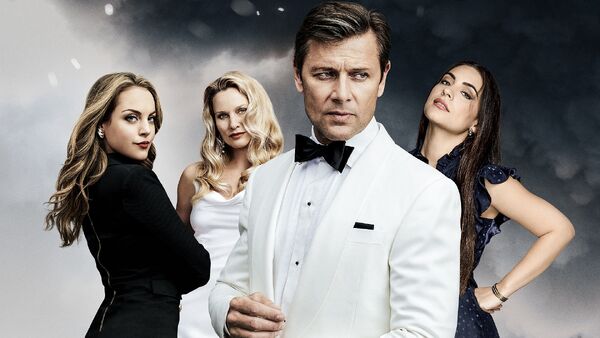 Season 1 of Dynasty premiered on Wednesday, October 11, 2017, on The CW, and October 12, 2017, on Netflix internationally. It consists of 22 episodes.
Season 2 of Dynasty premiered on Friday, October 12, 2018, on The CW, and October 13, 2018, on Netflix internationally. It consists of 22 episodes.
PREMISE: Fallon Carrington is charismatic, cunning, and poised to become the new COO of her father Blake's global energy empire – or so she thinks. Along with her brother Steven, Fallon is horrified to learn that they were called home not to announce her promotion – but rather to make the acquaintance of their stepmother-to-be, Cristal. When Blake chooses Cristal over his own daughter, Fallon sidles up to Blake's biggest rival, Jeff Colby, to seek her revenge. Meanwhile, when Cristal's nephew Sammy Jo comes to town, her carefully concealed history could bring her future crashing down – and who knows who else she might take down with her.
Join the fabulous world of the Carrington family with us at the Dynasty Wikia!
Anyone can edit this wiki and contribute to make it bigger and better! Your words count!
---
Need help finding your way around? Admins are here for just that! Pick one and ask your questions!
Audrey (persona: Fallon Carrington)
Selena (persona: Cristal Jennings)
Jay (persona: Steven Carrington)
---
Want to affiliate with us? Click here.
---
Create blog post
So, darlings, I decided that I actually like reviewing these episodes after I finish binge watching them, and I really loved "A Champagne Mood", so I'm giving reviewing a go. It also wouldn't hurt to…

Read more >
See more >
---
Featured Article

Cristal Carrington
(née Flores), born Celia Machado, was a main character in the television series, Dynasty. She was portrayed by Nathalie Kelley. As a former employee at Carrington Atlantic, she developed a close relationship with and marries Blake Carrington, much to his daughter, Fallon's dismay.
---
Featured Character

Dominique Deveraux
is a character on The CW's television series Dynasty. She is portrayed by Michael Michele. The mother to Jeff and Monica, she spent ten years estranged from children after walking out on them and her husband, Cecil Colby, who was convinced that she had been having an affair with Blake Carrington.
---
Featured Quote
"
There is a war being fought on this mountain, and I'm not gonna let this glam squad lose it.
"
---
Featured Video
---
Who is your favorite character this season?
---
Who do you ship the most?
---
Community content is available under
CC-BY-SA
unless otherwise noted.